TECHNICAL DATA
Designed for beside the press operation (injection, blow moulding and extrusion) and general purpose operation.
Four standard models, over 36 versions available.
Rotor with adjustable rotating knives.
Lateral end discs which turn with the rotor.
IP55 control cabinet and electrical motor.
Quick opening and easy cleaning.
Noise level largely within European norms EN 12012-1 appendix A.
A range of discharge systems are available to meet customers requirements.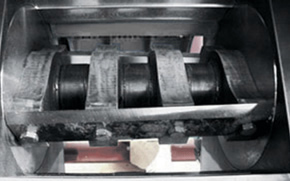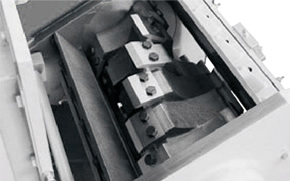 ---
| | | | | | | | | |
| --- | --- | --- | --- | --- | --- | --- | --- | --- |
|   | mm | n° | n° | mm | RPM | KW | Ø | Kg/H |
| G25-30 | 380x311 | 3 | 2 | 250 | 340 (450-180) | 4(5,5) | 8 | 40-140 |
| G25-45 | 380x457 | 3 | 2 | 250 | 340 (450-180) | 5,5(7,5) | 8 | 120-200 |
| | | | | | | | | | | | | | | | |
| --- | --- | --- | --- | --- | --- | --- | --- | --- | --- | --- | --- | --- | --- | --- | --- |
| | A | B | C | D | E | F | G | H | I | L | M | N | R | P | Q |
| G25-30 | 311 | 380 | 1530 | 660 | 1035 | 835 | 1460 | 735 | 283 | 1315 | 740 | 875 | 620 | 1045 | 1087 |
| G25-45 | 457 | 380 | 1530 | 805 | 1035 | 835 | 1460 | 880 | 283 | 1315 | 885 | 1020 | 620 | 1190 | 1232 |

APPLICATION SECTORS OF USE