New high precision granulator series G17
Utmost application flexibility
CMG launches a new series of small size beside the press granulators with connotates of high caliber. The very innovative and unique attributes of such new series are several and all contribute to obtaining the highest degree of productivity, regrind quality (homogeneous particle dimensions and absence of dust), efficiency of operation and the best application flexibility. In its standard configuration the G17 granulators are applicable to processes of injection moulding and of blow moulding. In the ET1 or ET2 configuration, they are suitable for extrusion applications. The granulation capacitiy range is from 5 kg/h up to 90 kg/h.


Precision cutting
The new CMG series of G17 granulators is designed to obtain the most homogeneous regrind shape and dimensions, along with little to no presence of dust. One additional very unique benefit of this new line is the ability to produce regrind with very small dimensions. The great advantage of dimensionally small regrind is the possibility to add higher percentages to the virgin material with no influence to the quality of the finished product. Small capacity systems, injection moulding machines or extruders, are equipped with small diameter plastification screws, unable to process granules with dimensions exceeding those of the virgin granule. The G17 granulators produce rigrind which is dimensionally comparable to the virgin pellet.
Performance charcteristics
Another outstanding feature of the G17 is the possibility to configure it with solid type staggered rotor or open type one. Depending on the application, the most adequate rotor configuration is provided. Also, both rotor and stationary blades are adjustable, to obtain the highest level of precision of cut. This latter characteristic confers additional uniqueness to the G17 line.
Ease of maintenance and accessibilty
The entire G17 unit can be accessed, cleaned and put back into operation in a matter of minutes. All parts are accessible with no need for tools and can be cleaned by vacuum.
The quitest of all
The new very specific sound insulation shell of the G17 series is designed to convey the sound waves towards the absorption panels to obtain noise levels well below those industrially acceptable (EN12012-1).
Certified power controls
The G17 models are all equipped with IP55 certified control panels. Also, all CMG grinding systems are certified for compliancy to Industry 4.0.
Wordwide reach
With Headquarters, Factories and Technical Center in Italy and the world's largest distribution network in the plastics industry, CMG is active worldwide with service and sales centers and localized technical skills. Contact CMG at the following link
https://www.cmg-granulators.com/contacts-3/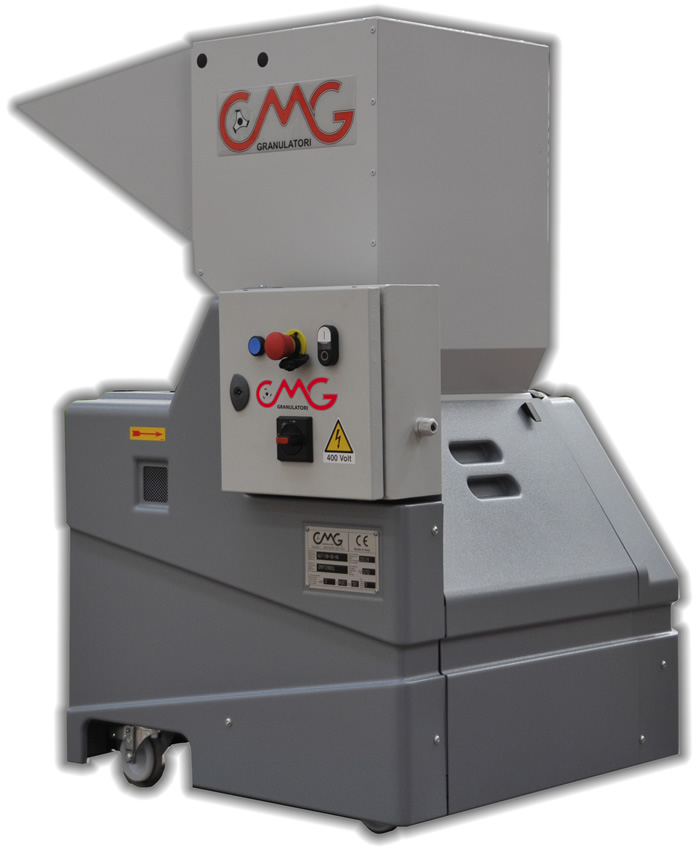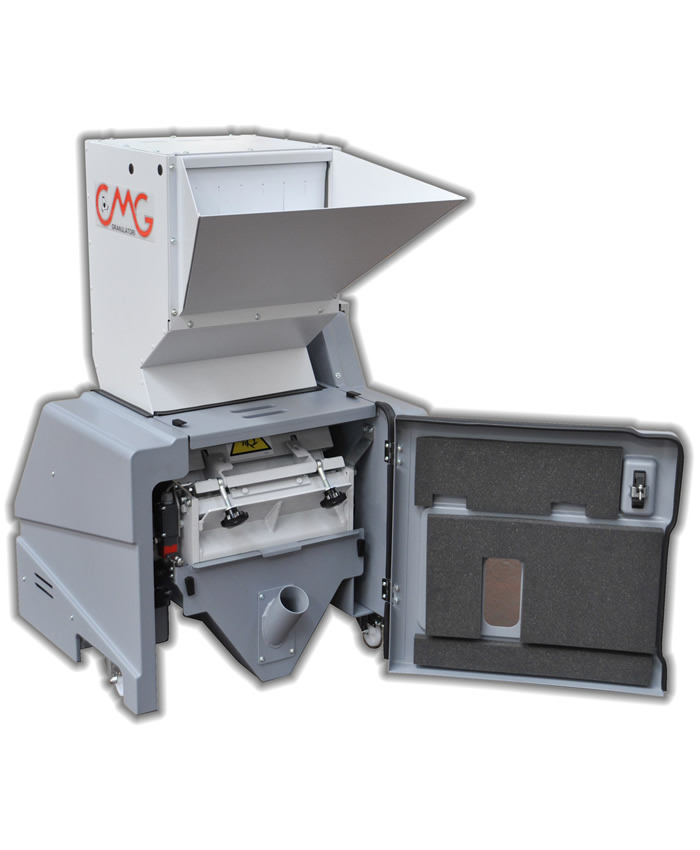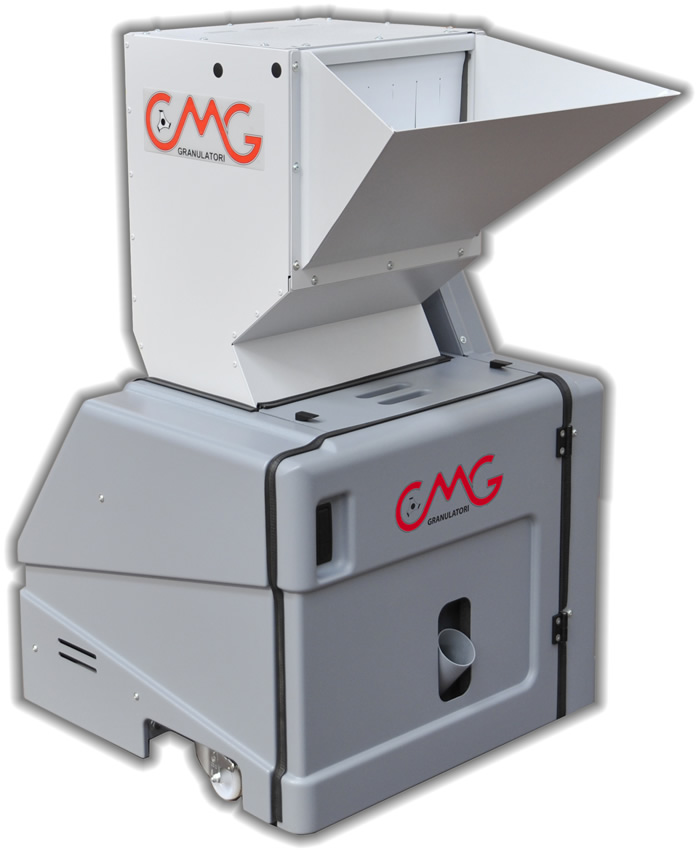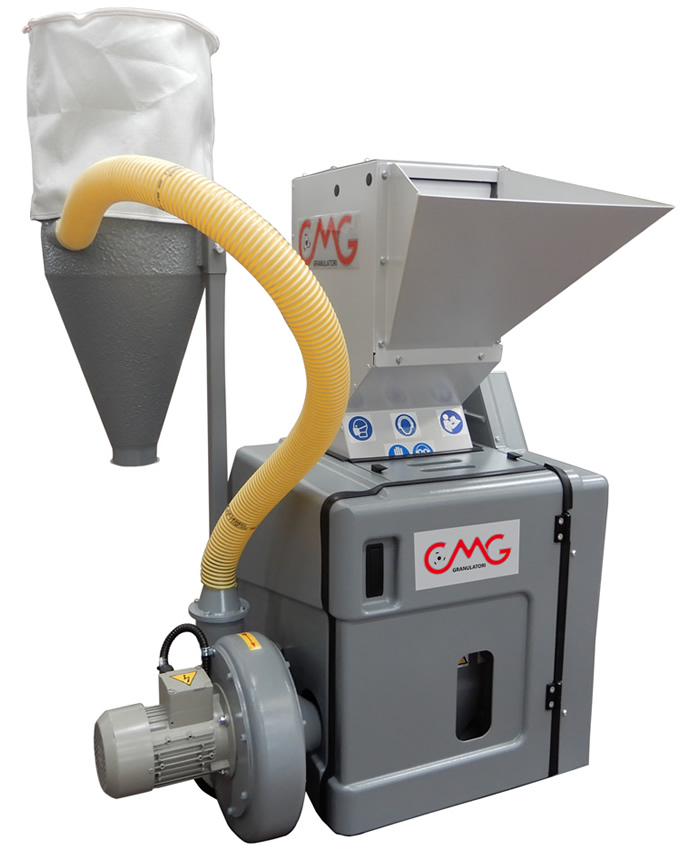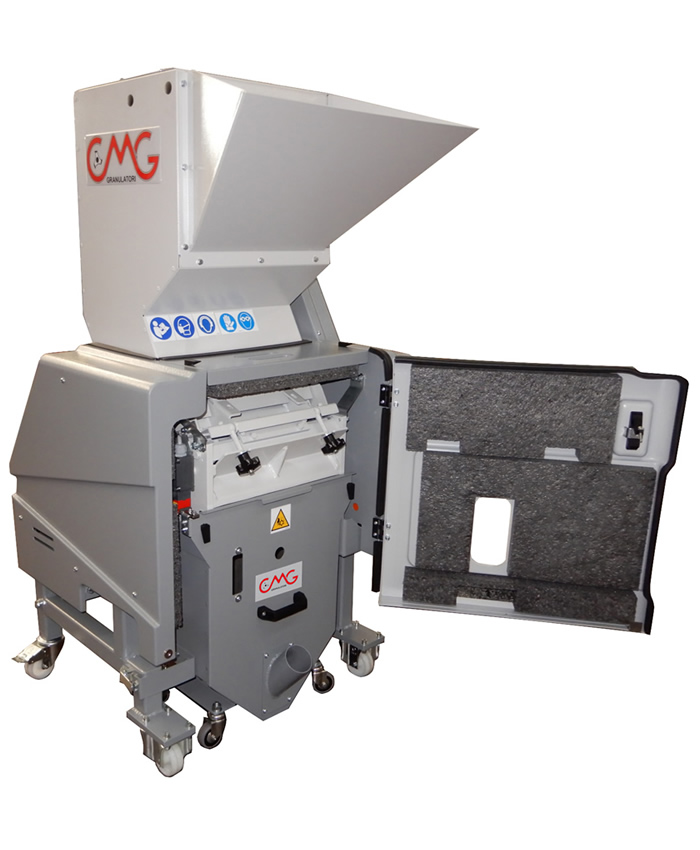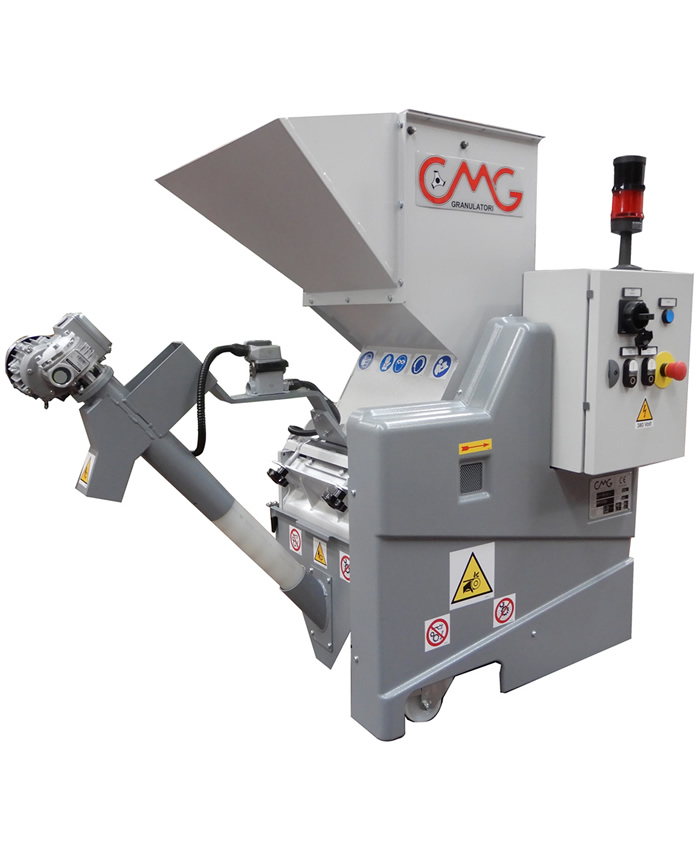 ---






TECHNICAL DATA
Designed for beside the press operation (injection and blow moulding).
Six standard models, over 50 versions available.
Two rotor design available.
Slow rotor speed (155-275 RPM).
Standard screen in stainless steel.
IP55 control cabinet and electrical motor.
Quick opening and easy cleaning.
Noise level largely within European norms EN 12012-1.
---
| | | | | | | | | |
| --- | --- | --- | --- | --- | --- | --- | --- | --- |
|   | mm | n° | n° | mm | RPM | KW | Ø | Kg/H |
| G17-22 | 230x310 | 9(3) | 2 | 170 | 155(275) | 2,2 (3,0-4,0) | 5 | 30-50 |
| G17-38 | 380x310 | 15(3) | 2 | 170 | 155(275) | 2,2 (3,0-4,0) | 5 | 50-90 |
| | | | | |
| --- | --- | --- | --- | --- |
| | A | B | C | D |
| G17-22 | 675 | 575 | 230 | 475 |
| G17-38 | 825 | 725 | 380 | 625 |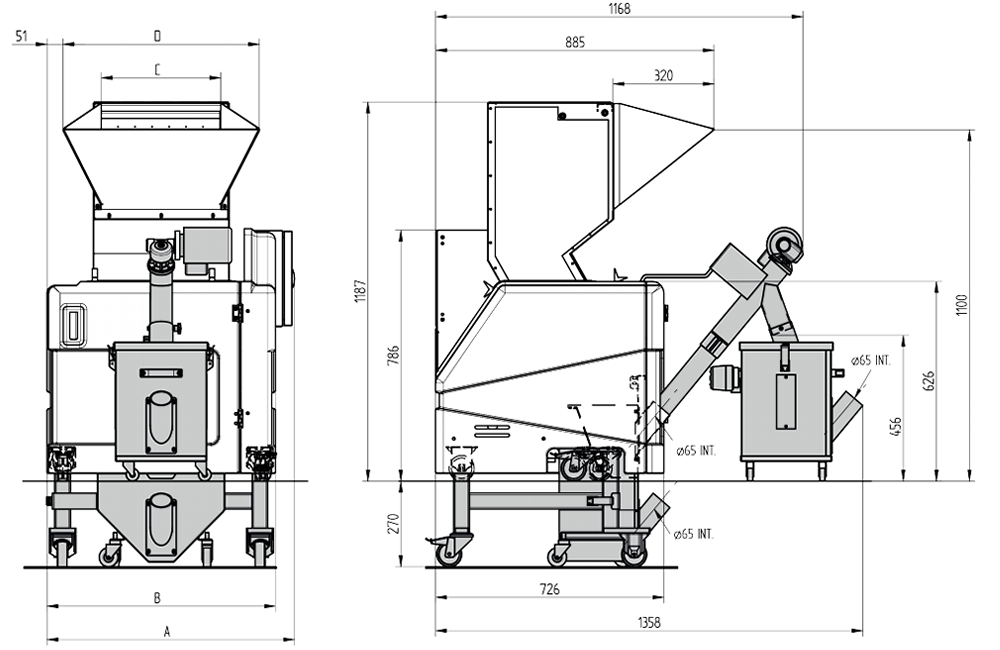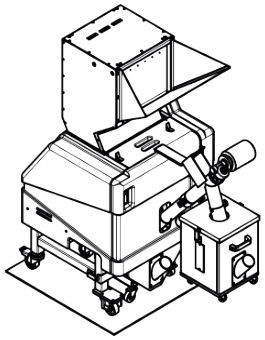 APPLICATION SECTORS OF USE