High efficiency shredders: patented blade design

CMG Granulators patented shredder blade design provides first-class cutting precision. The blade is inserted into a V-shaped opening on the rotor. This type of assembly guarantees the highest resistance to mechanical stress and the best cutting performance. Shredding is one of the initial stages of the recycling process. Post-consumer plastics require size reduction before being washed and moving on to the second stage of sorting. The precision of shredding provides dimensional homogeneity and the absence of small particles. In addition to the unique design of the blades, each CMG shredder is equipped with advanced controls to independently adjust the motor power and rotor RPM in order to obtain the highest quality shredded plastic using the least amount of electricity.

CMG Granulators is one of the few recycling equipment suppliers that manufactures both shredders and granulators. The CMG shredders range covers applications from small to medium capacity in kg/h: from 200 to 1,500. The TRM series consists of four models, TRM600, TRM900, TRM1200 and TRM1500, all equipped with the most advanced, patent-protected blade design and intelligent PLC controls.






TECHNICAL DATA
A new system to fasten rotating blades has been built and patented, featuring cutting angles which help recycle difficult components and achieve high production levels with restricted energy consumption.
Suitable to recover plastic materials, discharges, films, car parts and also electric cables, wood, paper, etc.
Fitted with a PLC which has been adequately designed to manage different applications, with the chance to select among different automatic machining programs.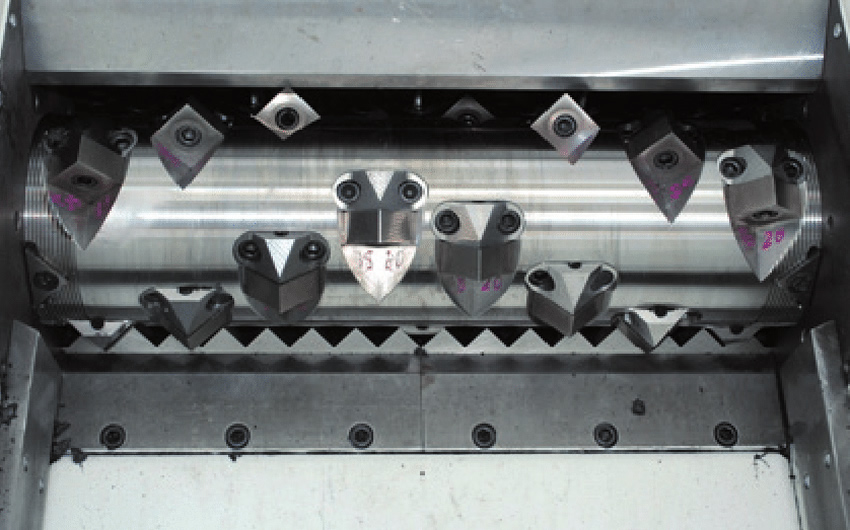 ---
| | | | | | | | | |
| --- | --- | --- | --- | --- | --- | --- | --- | --- |
|   | TRM600 | opt. | TRM900 | opt. | TRM1200 | opt. | TRM1500 | opt. |
| Rotor diameter ø mm | 220 |   | 220 |   | 400 |   | 400 |   |
| Rotor lenght mm | 600 |   | 900 |   | 1200 |   | 1500 |   |
| Rotor knives n° | 15 | 23 | 23 | 34 | 47 | 91/31 | 58 |   |
| Speed rotor rpm | 82 |   | 82 |   | 82 |   | 95 |   |
| Motor power KW | 18,5 |   | 30 | 22 | 55 | 45/75 | 75 | 2x55;2x75 |
| Hydraulic system power KW | 1,1 |   | 1,1 |   | 4 | 5,5 | 5,5 |   |
| | | | | | | | | |
| --- | --- | --- | --- | --- | --- | --- | --- | --- |
| | A | B | C | D | E | F | G | H |
| TRM600 | 1204 | 1015 | 584 | 601 | 1432 | 1289 | 2003 | 1895 |
| TRM900 | 1526 | 1311 | 906 | 897 | 1805 | 1720 | 2563 | 1980 |
| TRM1200 | 2180 | 1732 | 1255 | 1194 | 2384* | 2296* | 3527 | 2540 |
| TRM1500 | 2340 | 2109 | 1545 | 1495 | -/- | 2722** | 4526 | 2412 |
*75KW VERSION E = 2437 F = 2348
**DOUBLE ENGINE VERSION F = 3394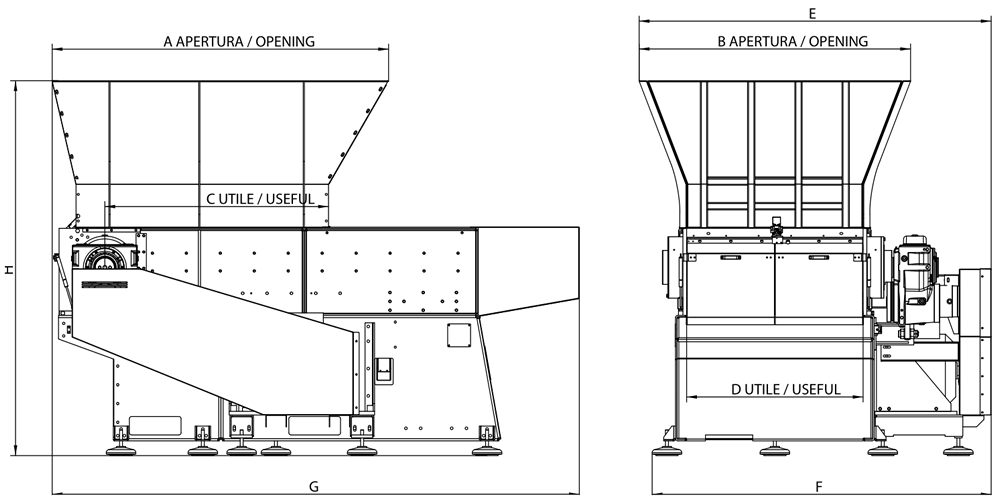 APPLICATION SECTORS OF USE