TECHNICAL DATA
A new system to fasten rotating blades has been built and patented, featuring cutting angles which help recycle difficult components and achieve high production levels with restricted energy consumption.
Suitable to recover plastic materials, discharges, films, car parts and also electric cables, wood, paper, etc.
Fitted with a PLC which has been adequately designed to manage different applications, with the chance to select among different automatic machining programs.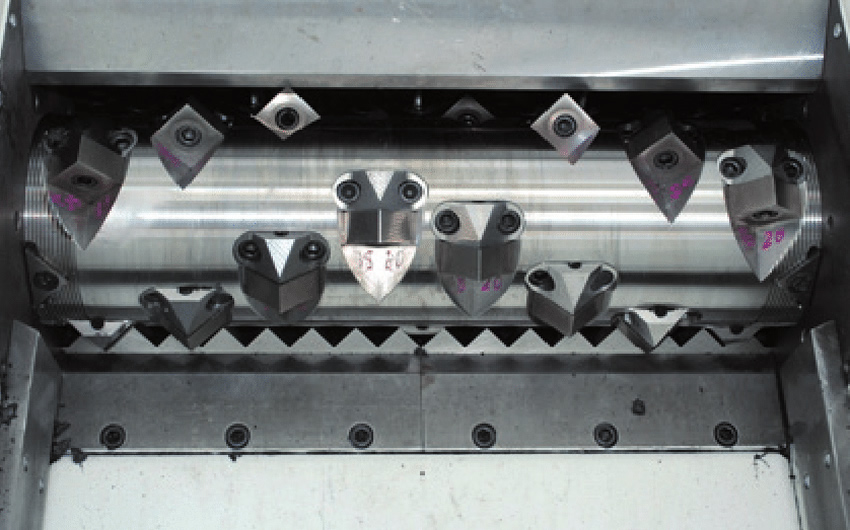 ---
| | | | | | | | | |
| --- | --- | --- | --- | --- | --- | --- | --- | --- |
|   | TRM600 | opt. | TRM900 | opt. | TRM1200 | opt. | TRM1500 | opt. |
| Rotor diameter ø mm | 220 |   | 220 |   | 400 |   | 400 |   |
| Rotor lenght mm | 600 |   | 900 |   | 1200 |   | 1500 |   |
| Rotor knives n° | 15 | 23 | 23 | 34 | 47 | 91/31 | 58 |   |
| Speed rotor rpm | 82 |   | 82 |   | 82 |   | 95 |   |
| Motor power KW | 18,5 |   | 30 | 22 | 55 | 45/75 | 75 | 2x55;2x75 |
| Hydraulic system power KW | 1,1 |   | 1,1 |   | 4 | 5,5 | 5,5 |   |
| | | | | | | | | |
| --- | --- | --- | --- | --- | --- | --- | --- | --- |
| | A | B | C | D | E | F | G | H |
| TRM600 | 1204 | 1015 | 584 | 601 | 1432 | 1289 | 2003 | 1895 |
| TRM900 | 1526 | 1311 | 906 | 897 | 1805 | 1720 | 2563 | 1980 |
| TRM1200 | 2180 | 1732 | 1255 | 1194 | 2384* | 2296* | 3527 | 2540 |
| TRM1500 | 2340 | 2109 | 1545 | 1495 | -/- | 2722** | 4526 | 2412 |
*75KW VERSION E = 2437 F = 2348
**DOUBLE ENGINE VERSION F = 3394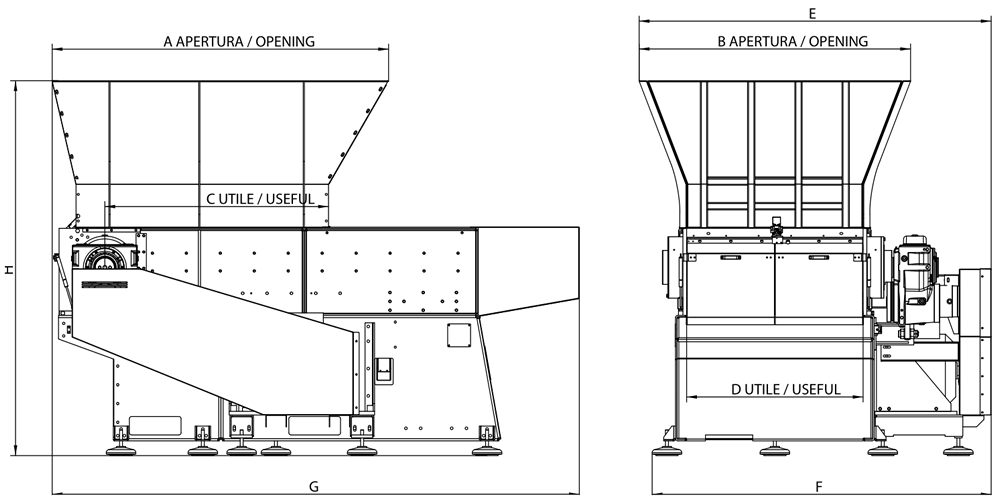 APPLICATION SECTORS OF USE