TECHNICAL DATA
Designed for heavy-duty applications, for blow moulding, extrusion and general purpose applications.
Designed for an effective high-quality regrind of plastics, rubber, light metals, and wastes in general.
Two basic models, over 30 versions available.
Hopper and screen cradles are of easy access for quick cleaning and maintenance.
Advanced "Scissor" cutting action, reduces energy consumption, heat and dust generation.
Fully sound enclosed for low operating noise level.
A range of feed and discharge options are available to meet each customers requirements.
Safety complies with CE standard.
---
| | | | | | | | | |
| --- | --- | --- | --- | --- | --- | --- | --- | --- |
|   | mm | n° | n° | mm | RPM | KW | Ø | Kg/H |
| N45-100 | 600x1070 | 3(5) | 2 | 450 | 460 | 45(55-75) | 8 | 800-1000 |
| N45-160 | 600x1600 | 3(5) | 2 | 450 | 460 | 55(75) | 8 | 1000-1400 |
| | | | | | | | | | | | |
| --- | --- | --- | --- | --- | --- | --- | --- | --- | --- | --- | --- |
| | A | B | C | D | E | F | H | I | L | M | N |
| N45-100 | 1070 | 600 | 2500 | 1850 | 1960 | 1350 | 110 | 345 | 1850 | 800 | 640 |
| N45-160 | 1590 | 600 | 2525 | 2375 | 1960 | 1350 | 110 | 365 | 1865 | 1400 | 850 |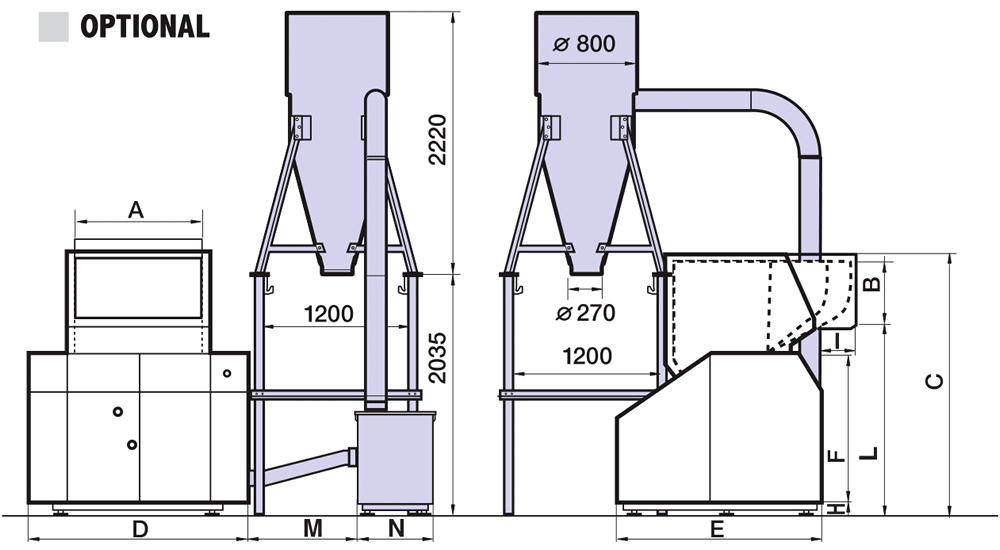 APPLICATION SECTORS OF USE