AIR FILTERING - DE DUSTING
KD Series






TECHNICAL DATA
Designed for de-dusting of plastic regrind. Filtered, dustfree air returned to ambient atmosphere.
Can be floor standing or can be fitted to both new and existing granulators/shredders.
Five models available for a variety of applications.
Model KD04-S, easy to use and versatile. Features automatic cleaning cartridge filter working with negative air pressure.
Four models, KD04-S, KD04, KD07, KD07-S, equipped with negative air suction system and air filtration system with automatic cartridge filter.
Accessories: CMG's Big-Bag supports, anti-static bars, metal separators.
---
| | | | |
| --- | --- | --- | --- |
|   | Kg/H | KW | dm3 |
| KDCA/1C | 0/250 | 0,75 | 250 |
| KD04-S | 0/500 | 0,75 | 50 |
| KD04 | 0/500 | 0,75 | 50 |
| KD07 | 0/1000 | 1,1 | 50 |
| KD07-S | 0/2000 | 1,1 | 50 |
| | | | | |
| --- | --- | --- | --- | --- |
| | A | B | C | D |
| KDCA/1C | 810 | 1050 | 550 | 2700 |
| KD04-S | 810 | 750 | 750 | 2260 |
| KD04 | 515 | 750 | 750 | 2260 |
| KD07 | 695 | 1100 | 1100 | 2370 |
| KD07-S | 930 | 1100 | 1100 | 2370 |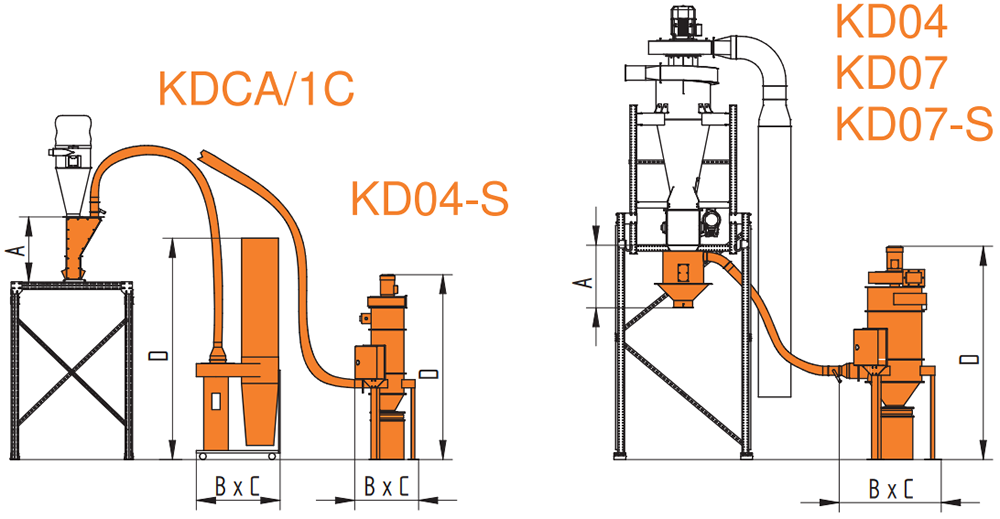 APPLICATION SECTORS OF USE