AIR FILTERING - DE DUSTING
KA Series






TECHNICAL DATA
Designed for conveying and dust removal of materials with filtered air release into working ambient.
A large number of different models to meet all requirements.
Negative pressure transport to reduce material dust and noise emissions.
Transport systems with filter cartridges which are easy to access and renew.
Robust and compact modular structure which can be adapted to any plant layout.
Accessories: antistatic bars, metal separators, DPM measurers.
Safety in compliance with EC standards.
Automatic and independent operation or interfaceable with granulator/crusher.
---
| | | | |
| --- | --- | --- | --- |
|   | Kg/H | KW | dm3 |
| KA04 | 60/100 | 1,5 | 50 |
| KA07 | 100/250 | 1,85 | 50 |
| KA12 | 250/400 | 2,95 | 50 |
| KA110 | 400/600 | 4,75 | 87 |
| KA145 | 600/1300 | 8,25 | 87 |
| KA350 | 1300/2000 | 15,75 | 87 |
A
B
C
D
E
F
G
KA04
1350
1100
780
1060
2620
2900
-
-
70
KA07
1640
1330
900
1150
2610
2860
-
-
70
KA12
1448
1448
1550
-
3780
-
2810
2810
100
KA12+DE3
 
 
1860
 
4470
 
 
 
 
KA110
1448
1448
1550
-
3780
-
3265
3280
100
KA10+DE3
 
 
1860
 
4470
 
 
 
 
KA145
1448
1448
900
2050
3650
4805
4050
3605
160
KA145+DE4
 
 
 
 
4340
5495
 
 
 
KA350
1448
1448
900
2050
4570
5730
4250
4020
210
KA350+DE5
 
 
 
 
5260
6420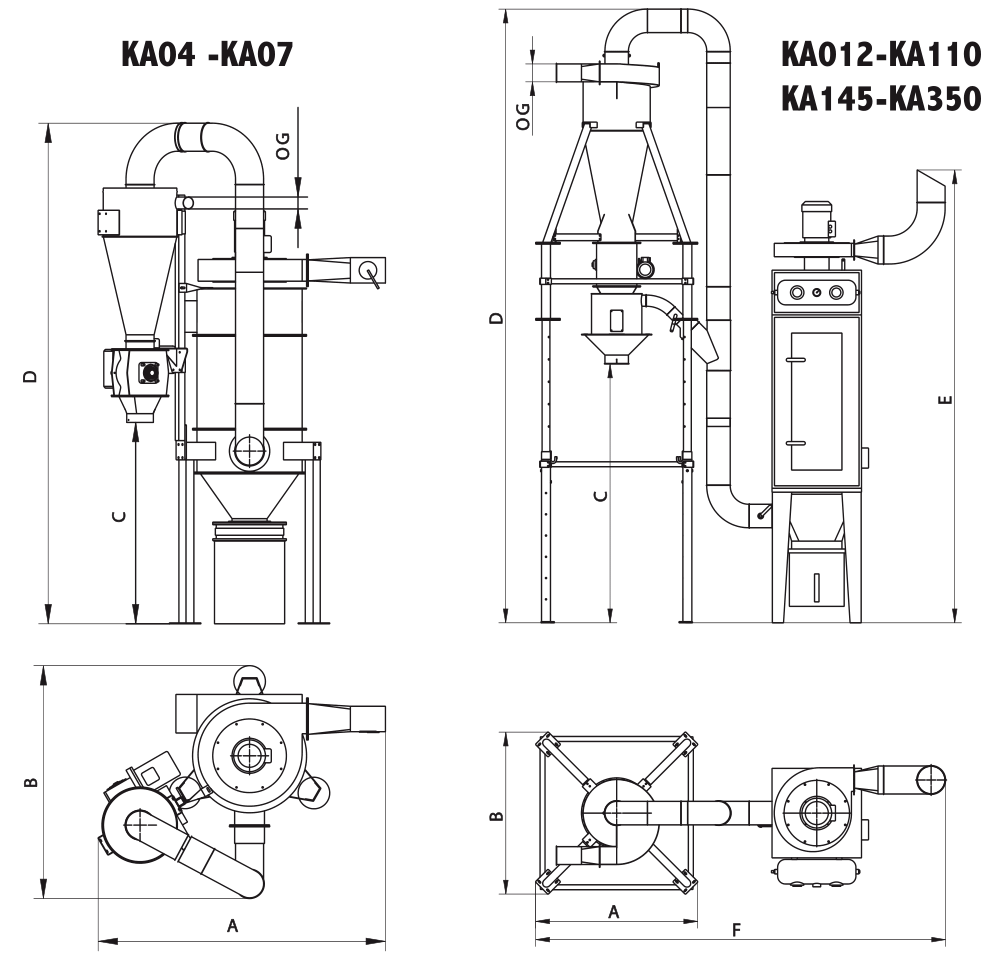 APPLICATION SECTORS OF USE